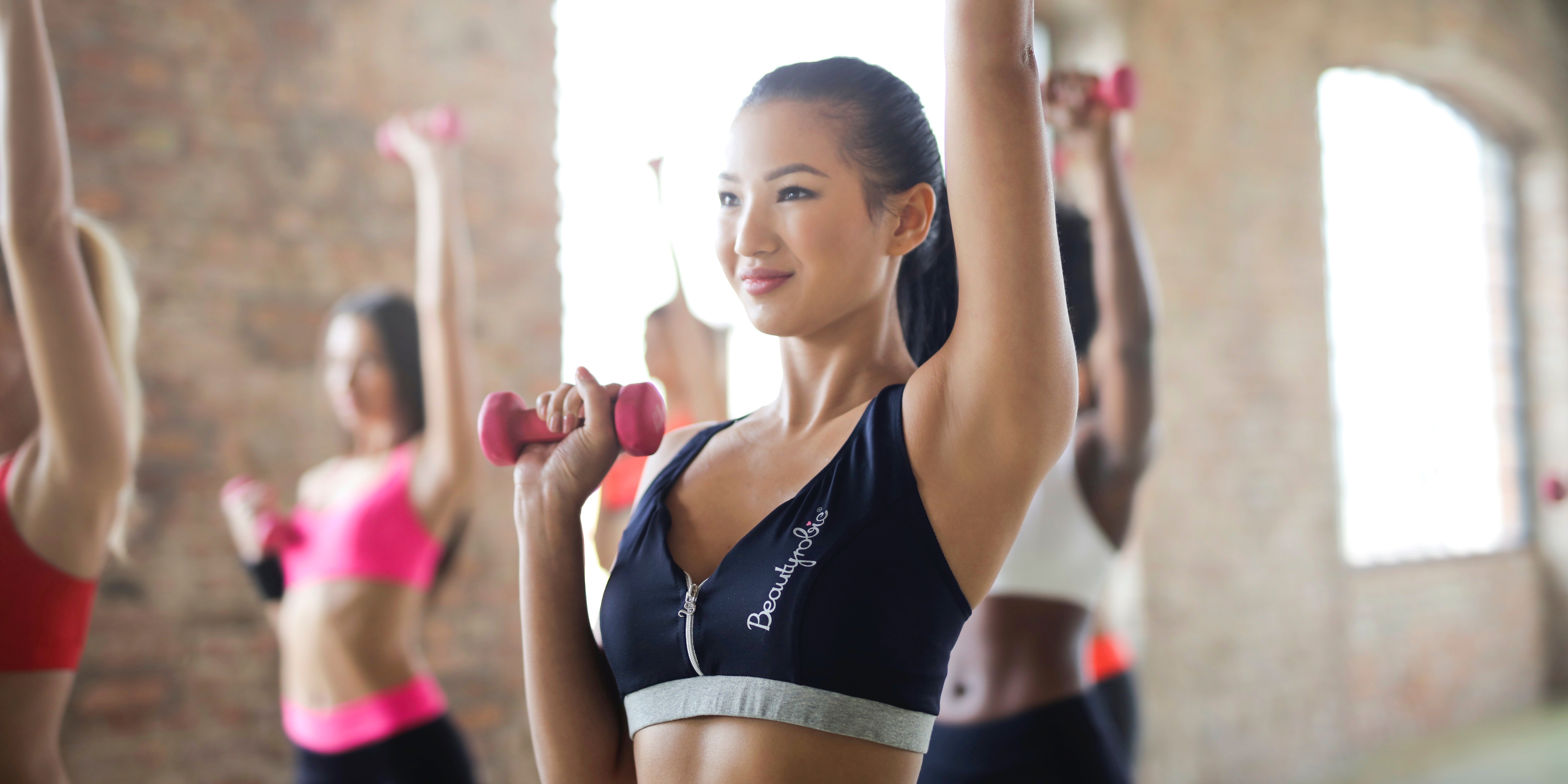 New Year's resolutions come from a place of good intentions. New year, new you, right? The new year may seem like the perfect time to be setting health goals, however, it's almost a self-destructive practice to try to make these major changes in the middle of winter when the rest of nature is hibernating. Spring, however, brings with it a better time to set goals for ourselves. More daylight hours and a renewed appreciation for spending time outdoors is exactly the right setting to set goals for your health. Follow these 4 tips for setting health goals and having a healthier spring.
Get Outside, Get Moving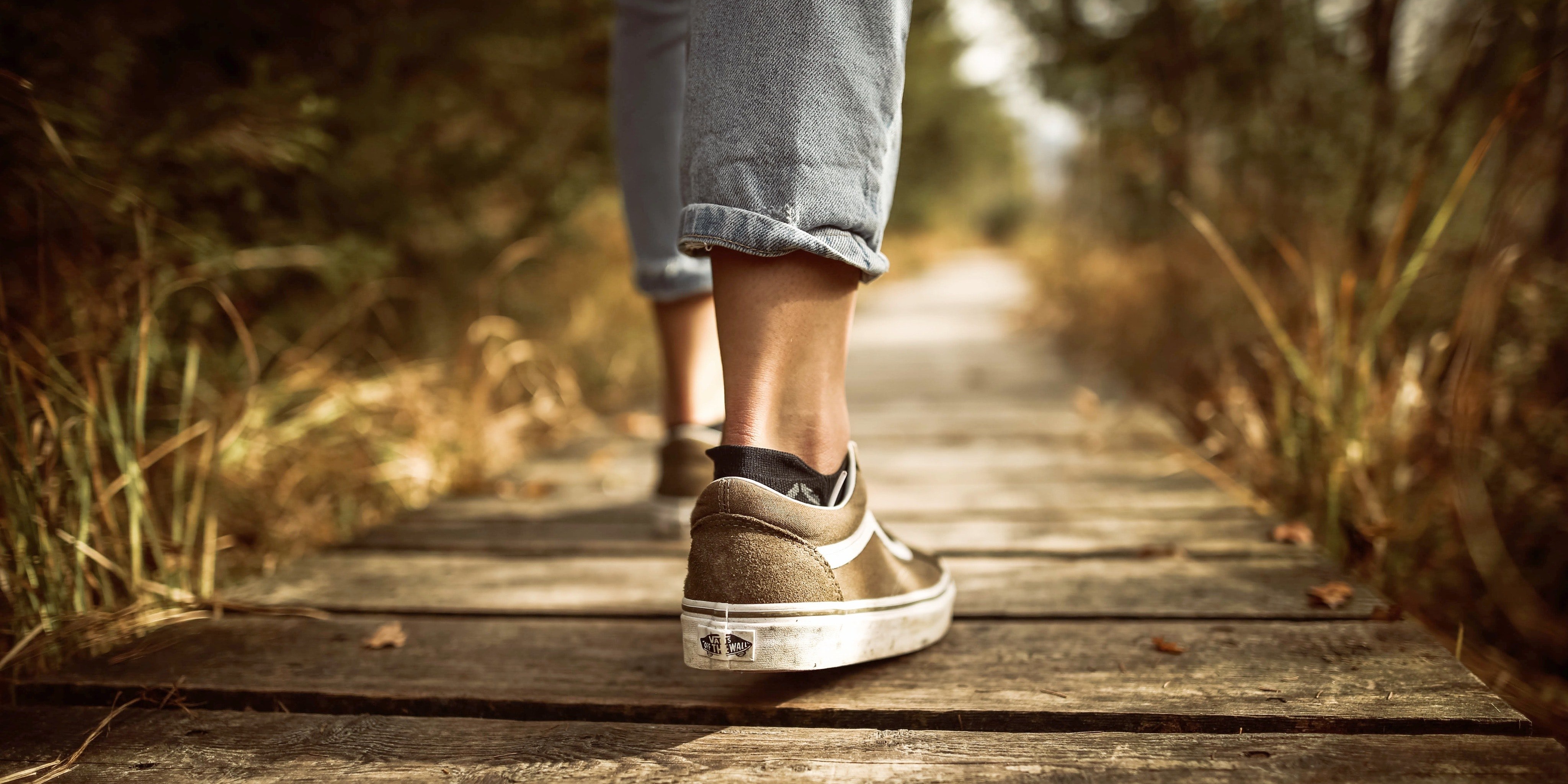 In the springtime, with warmer temperatures and burst of new growth, the world practically begs you to get outside. Use that renewed sense of motivation to spend time outdoors. Doctors and health experts recommend 30 minutes of light to moderate exercise every day, and it certainly doesn't require a gym membership to be healthy. Find your favorite place to go for a daily walk - the closer to your home or work the better.
Time flies when you are doing what you enjoy so listen to your favorite music or audiobook with a pair of EcoSurvivor earbuds. The best thing about these earbuds is that they have an IPX4 rating, which means your earbuds are sweat resistant while the durable cable is designed to withstand everyday wear and tear. I can easily get through 30 minutes of walking with the right music, especially when my walk takes me through my favorite park. Find nature trails, walking paths and gardens near you for even more variety to your new healthy habit.
Eliminate Blue Light for Better Sleep
Many people spend hours awake at night lying in bed with mobile phone in hand, hoping that eventually our hyperactive brain will finally chill out enough to fall asleep. But this habit can actually cause more havoc than your realize. The light coming from our screens is blue light, and this blue light can inhibit our body's natural production of melatonin (the hormone that regulates our sleep pattern). To get better sleep, it would be best to stop using artificial light altogether, but that isn't possible in modern times. There are some more reasonable solutions to eliminating some of the blue light in your bedroom:
Avoid looking at screens two to three hours before bed. This includes television screens, computers and mobile phones or tablets.
Use a nightlight with an amber light, rather than blue or white light. We recommend the

GE LED Sleeplite

which yields virtually no blue light, supporting healthy melatonin levels that tell our bodies it's time for rest.
Expose yourself to lots of bright light during the day, which helps boost your ability to sleep at night, as well as your mood and alertness during daylight.
Automate Your Day for Less Stress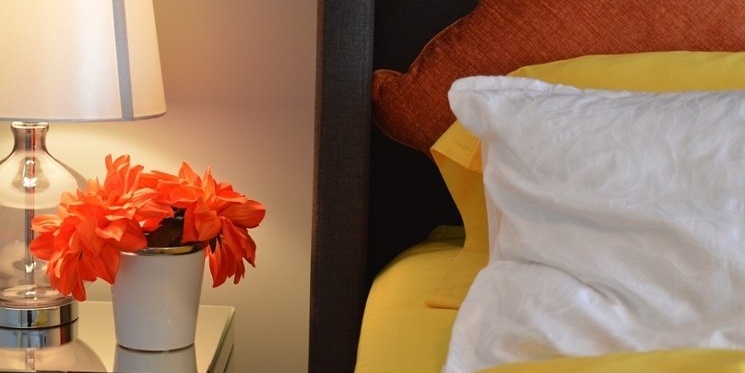 After a long day of tackling to-do lists, running errands and making decisions, I prefer to just re-watch episodes of The Office on Netflix for the thousandth time until I fall asleep. Not only am I breaking the "No Blue Light Before Bed" rule already, this is clearly my brain trying to communicate that I'm doing too much. Our brains can only handle so much before we burn out. Making decisions can drain a lot of our brain power resulting in impulsive choices. So limit the number of decisions you need to make by having a set routine or plan in place.
Automate Your Outfit: There is a reason Mark Zuckerberg wears the same outfit every day. It's one less decision that needs to be made on a daily basis. If a uniform outfit won't work for your lifestyle, try setting out your clothes the night or weekend before.
Automate Your Breakfast: Choose to have the same breakfast every day. Or if that seems too monotonous for your own preferences, take it out of your own hands and allow chance to make your decisions by writing the names of your favorite restaurants/meals/activities on slips of paper and choosing from a hat. The less decisions you have to make, the less stressed you will find yourself so you can focus on the important things instead.
Automate Your Home: You can strike off a number of items just by automating your home with a timer to control lighting and other appliances. Program a myTouchSmart timer to have your bedside lamp come on at the same time that your alarm clock goes off. Or use this same timer to set your coffee maker to automatically fill your whole place with the aroma of a fresh cup of java every morning. This mySelectSmart lighting control includes a wireless remote for easy setup and use to turn On/Off a lamp from anywhere in a room. Check out this blog post for more ideas on how to be more productive without lifting a finger.
Drink Water and Get Some Sun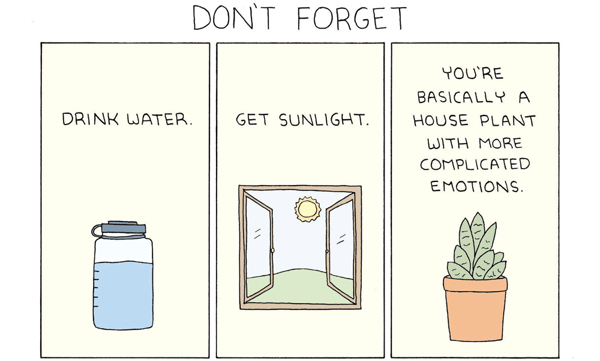 credit: poorlydrawnlines.com
Improving mental health is another common resolution. Self-care and stress relief is an area I struggle with - particularly in the winter. But once the daylight hours start growing longer, we have even more time each day to spend on taking care of ourselves.

A lot of our daily stresses come from two major culprits- lack of sleep and chaotic schedules.
Setting health goals in the spring is the new "New Years Resolution." Trying to tackle too many goals at once can be daunting though, so start with easy things like walking outside, getting an amber night light, automating your routine and taking some time for yourself.