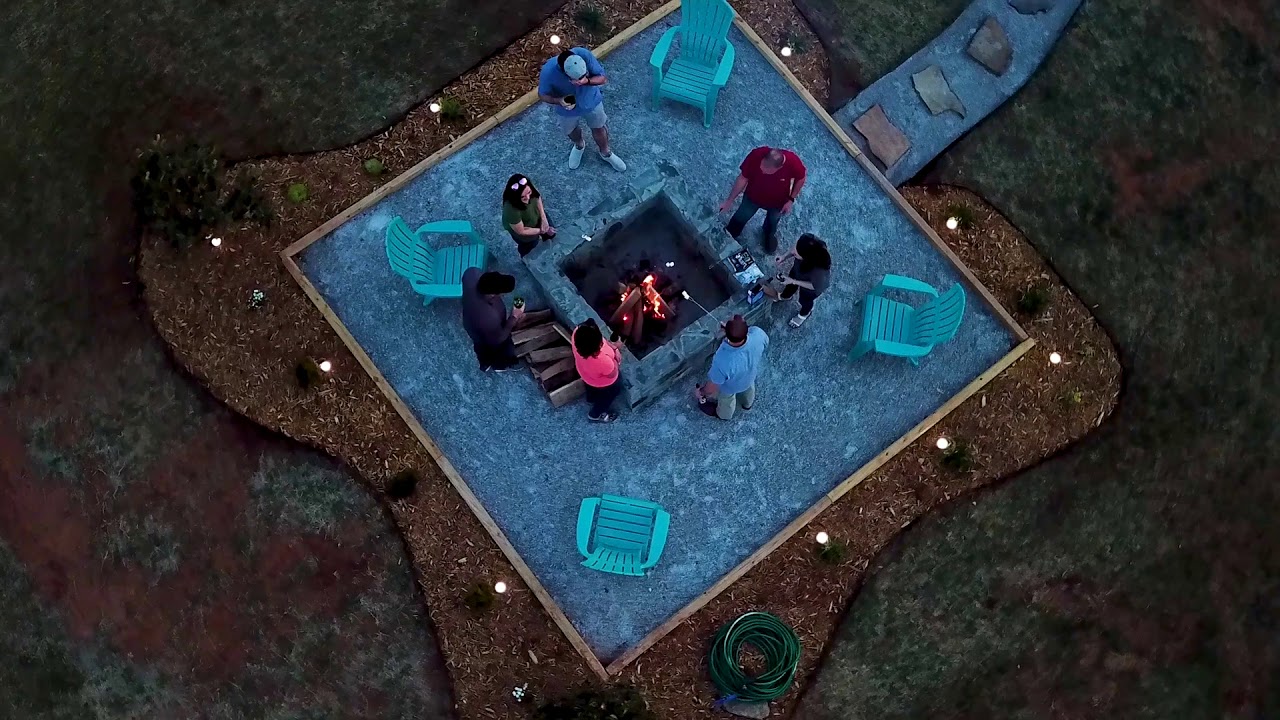 Outdoor spaces – from the front to the back – play an important role when it comes to the look and feel of our homes. While the front yard sets the first impression of your home and creates curb appeal, the backyard is often where those special moments take place with friends and family for barbecues, fun games, special occasions and relaxing evenings outside.
If you're looking to spruce up your outdoor space or add curb appeal, outdoor lighting will surely be important to help you achieve that "wow" factor. Now is the perfect time for a fun DIY weekend project. But before you set out to revamp the look of your outdoor space, we've compiled a list of the top landscape trends to consider.
Landscape Lighting Trend #1 –
Security
Security inside the home starts on the outside
The most important trend of the year is safety. Homeowners are more concerned now than ever with keeping their homes (and families) as safe and secure as possible, especially during evening hours and summer vacation months when the home is unoccupied. A well-lit house and pathway deter unwanted visitors and outdoor lighting acts as the first safety measure in protecting your space. Bonus tip: Outdoor timers can also help your home appear lived-in when you're away and deter intruders with lights that automatically turn on and off at certain times.


Landscape Lighting Trend #2 –
Color Changing Lights
Lighting should be a way to express yourself during every season and every occasion
Adding a pop of color is an easy way to make your outdoor space more inviting and unique. While the Pantone color of the year is Ultra Violet, you can opt for shades of blue or yellow to stay on trend as well. Color changing lights are also convenient because they stay relevant and on-trend all year long. They're perfect for game days (adjust the hue to the color of your favorite sports team) or show your holiday spirit (green and red for Christmas) by simply pressing a button.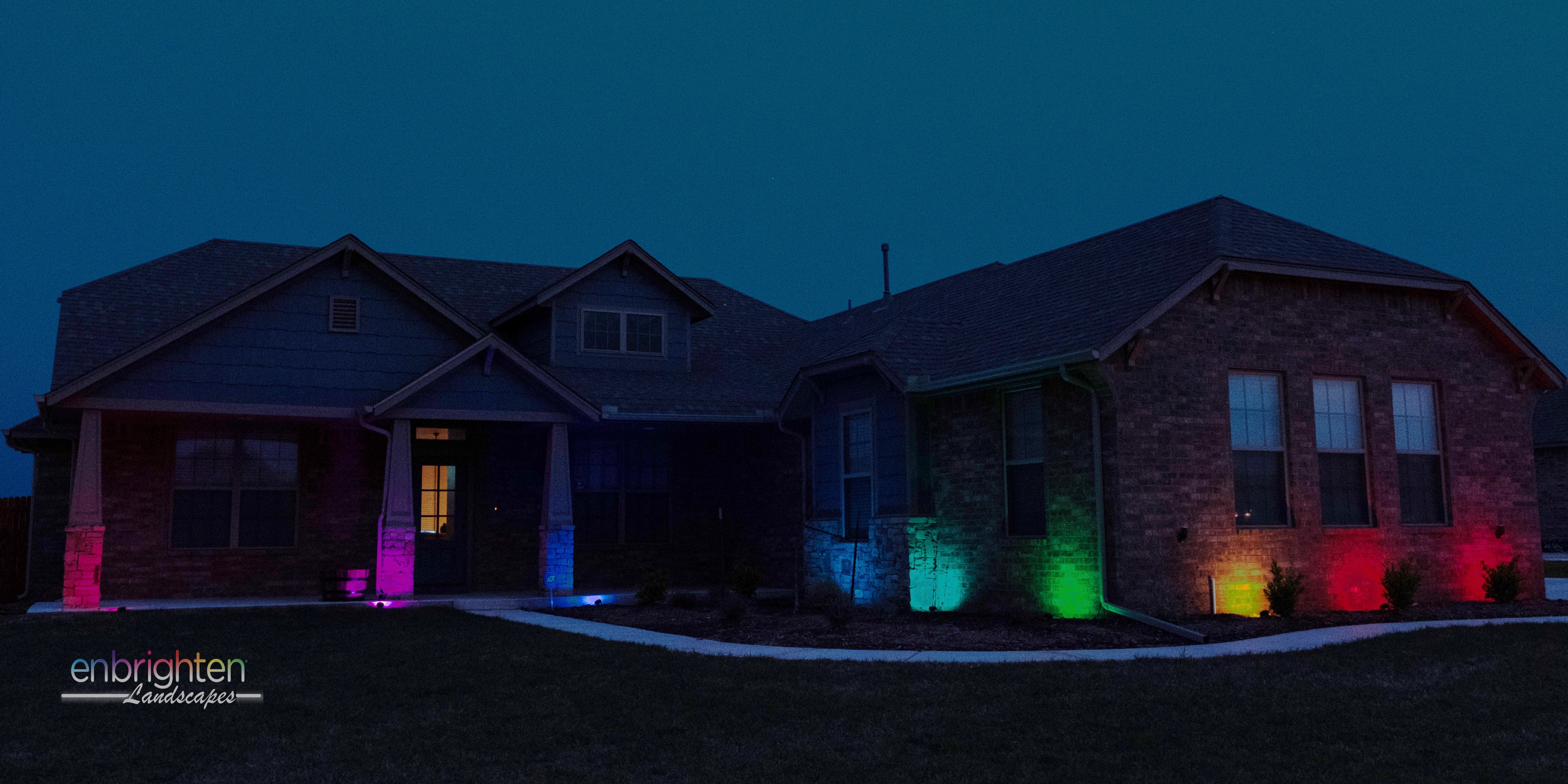 Colorful outdoor lighting is a fun and festive way to celebrate those special occasions, but what about a soft elegant look for every other day in between? Make sure you have the option to easily switch back to a classic warm white glow if you feel like taming things down a little after the holidays or special events are over.

Landscape Lighting Trend #3 – Easy Installation
DIY lighting projects can be easier and more fun than you might think
Easy installation is also something almost all consumers are looking for when it comes to buying home products. People are on the lookout for items labeled as "easy-to-use" or "easy-to-install" with everything included in one box.
Today's consumer is looking for a weekend DIY project around the home that's not only fun, but simple to finish as well. Landscape lights are the perfect solution to add colorful, beautiful ambiance to any outdoor space, while also keeping up with the biggest landscape trends of the year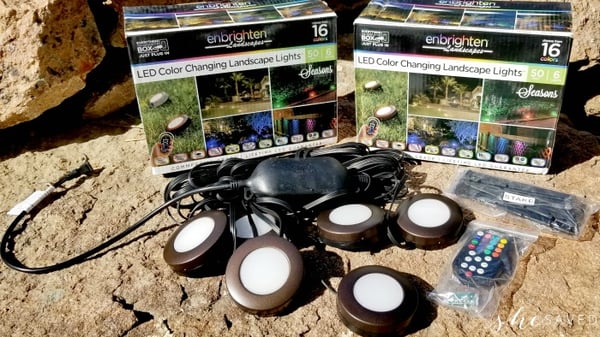 Our new Enbrighten Landscape LED Lights can transform your yard into your new favorite place to spend time. Weatherproof and available in 6, 9 and 12-light packs in lengths ranging from 50 to 110 feet, the landscape lights can be used for flower beds, patios, decks or along pathways. The lights are remote controlled with one or two-color custom displays, preset color modes, lighting effects, dimming options and adjustable white setting create thousands of appearances to match every occasion and season.
You Might Also Like: