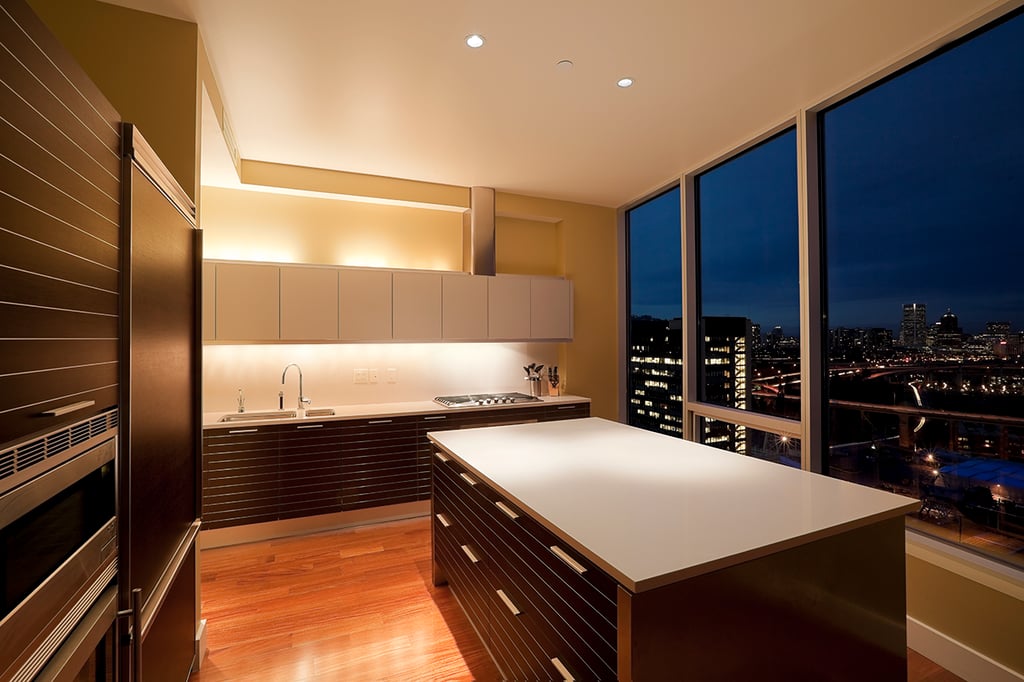 If you've been binge-watching home renovation shows and are itching to make some changes around the house, you likely have kitchen upgrades at the top of the list. Adding under cabinet kitchen lighting can make a major impact in your space. Under cabinet lights are also one of the more affordable ways to upgrade your home. But how do you get started?

Wandering the aisles of your nearest home improvement store and trying to compare the different types of light fixtures could result in confusion. What do these numbers mean? What type of light is best? We're going to help you navigate all the ins and outs of choosing the best under cabinet lighting for you and your space in this Under Cabinet Fixtures edition of our Q&A Series.
What is the difference between Fluorescent, Incandescent and LED?
There are three main types of under cabinet light fixtures: Incandescent, Fluorescent and LED.
Incandescent fixtures are the oldest lighting technology in this category. They provide excellent light quality and are fully dimmable, but have several notable drawbacks including high energy costs, short bulb lifespan and excessive heat production that can warm your home and raise your air conditioning costs.
Fluorescent fixtures offer better energy efficiency and lifespan, but produce poor quality of light and are generally more expensive. Unless you want your home to have the ambiance of an office cubicle, there are better light sources available.
LED (Light-emitting diode) fixtures combine the best traits of their incandescent and fluorescent predecessors: outstanding energy efficiency, high quality warm light that's cool to the touch, and lifetime bulbs that never need to be replaced. The cost of LED lighting has dropped significantly in the past few years and is now an affordable option for most homeowners. LED's considerable advantages over legacy technologies make it a clear first choice for under cabinet kitchen lighting.
What is color temperature and how do I choose the right temperature for my space?
Color temperature is a measurement of how warm or cool a light is. Warm light is yellow or amber. Cool light is typically more blue. Correlated Color Temperature (CCT) is measured in degrees Kelvin.
The higher the color temperature, the cooler the light. For example, the blue flame of a blowtorch is a much higher temperature than the warm orange glow of a candle. Most of the lighting fixtures available for household lighting appliances will be in one of these ranges:
2700K – 3000K "Warm White": This is the color temperature of light produced by a standard 60-watt incandescent bulb. Most Americans grew up with this light in their homes, and it remains the most popular option among North American consumers today.
5000K "Daylight": This color temperature is much cooler and whiter than the warm hue of 2700K. This color temperature of lighting products is gaining in popularity among American consumers.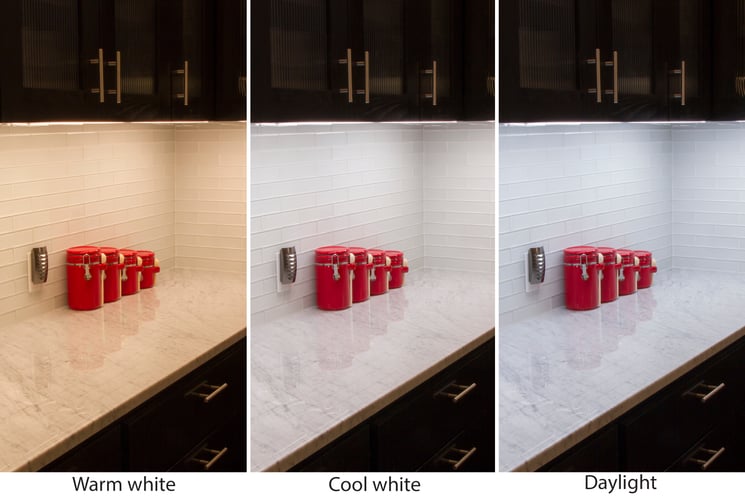 Most fixtures operate at only one color temperature, so it is important to pay attention to the color temperature listed on the box or product description before buying. Or consider a fixture with a selectable light temperature so that you can adjust the color temperature as you need.
What is CRI and why is it important?
CRI – or Color Rendering Index - measures how accurate the color of an object looks under a light source. We offer an in-depth explanation of CRI in our Under Cabinet Lighting guide here.
Earlier generation LEDs had a relatively low CRI score of about 70. The standard today is 80. Most people are satisfied with 80 CRI, but if you really want to dramatically enhance the look of your kitchen, there are premium fixtures available with CRI scores as high as 98 (nearly perfect).
How difficult is it to install under cabinet fixtures?
That depends on the type of fixture you are installing. Direct wire fixtures can be intimidating for DIY-ers who have never attempted this type of installation before. It may be necessary to contact a licensed electrician to consult you on installing a direct wire fixture. The upside to this type of light fixture is that once installed correctly, your lights will turn on and off using your in-wall light switch. Direct wire fixtures are also a more permanent installation, which makes them a preferred option for many homeowners, while renters may still prefer a plug-in alternative.
Plug-in fixtures come with a standard power cord that plugs into any of your kitchen's power outlets. These require no electrical skill to install and are perfect for DIY-ers.

If you lack the know-how to direct wire, and there are no plugs nearby in your space, you also have the option of a battery-operated light fixture. These are great for pantries or closets that lack a good lighting source.
What is the purpose of a junction box?
A junction box or converter box allows you to convert GE linkable fixtures from plug-in to direct wire. It also eliminates cord clutter with direct wire fixtures by allowing multiple fixtures to be controlled by one light switch. If your fixtures are front phase dimmable, the junction box allows you to dim your lights with a compatible in-wall dimmer for some romantic mood lighting.
What else should I look for when choosing under cabinet kitchen lighting?

There are other things you should make note of when shopping for light fixtures. Lumens are an important consideration. Lumens are a measurement of brightness and the amount of lumens you need depends on the size of your kitchen. Dimmable fixtures eliminate the guesswork and are the best way to ensure you are getting the right amount of lumens for every situation since they can always be adjusted to your preference and needs at the time.
Another thing to consider is how much space you have. Make sure to measure where you will be installing your under cabinet fixtures and allow space for the cords or wires. Take special note of large gaps between cabinets. Since most kitchens have cabinets on both sides of the sink, you may prefer to wire the lights on each side of the kitchen to separate power sources.

Finally, look for the UL logo on the package to ensure that you are choosing a light fixture that meets rigorous standards and testing. The safety of you and your loved ones is not something to mess around with.
Where can I use under cabinet fixtures?
There are so many nooks and crannies in your home that could use better lighting. By no means should you limit yourself to just underneath the kitchen cabinets. We've seen some great installations above kitchen cabinets as well as below. Or think beyond the kitchen entirely. Add accent lighting to your office or entertainment center with strategically placed fixtures. Brighten a spooky attic, basement or shed so you can be confident that there are no spiders lurking unseen. Oh, and make sure your children know that both monsters and the Boogeyman hate closets with motion activated lighting, since it gives away their location immediately.


Check out our 2-Part Guide to DIY Under Cabinet Kitchen Lighting
(READ PART ONE HERE
).
Get more tips and information on the different types, sizes and features of under cabinet fixtures. In part two, you'll learn even more about what to look for in quality under cabinet kitchen lighting and the important factors you should consider before getting started with your DIY kitchen lighting installation (READ PART TWO HERE).
Still have questions about under cabinet lighting? Visit our FAQ page here for more help!