Roses are red violets are blue, which Jasco product is the perfect fit for you? In honor of the season of love, our team members spotlight their favorite Jasco product!
Philips Multiport Hub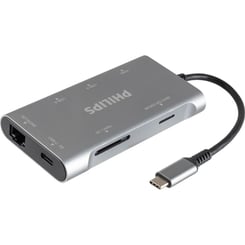 An efficient and effective workspace requires all the right connections. That's why I absolutely love this compact Philips Elite USB-C Multiport Hub With Power Pass-Through. It expands a single USB-C port on my laptop to connect all my accessories such as my keyboard, mouse, SD and MicroSD cards, USB flash drive, printer, HDMI-enabled monitor and more. It even has a USB-C Power Delivery port for 60W device charging. Whether I'm working from home or the office, this docking station's space-saving design and plug-and-play simplicity let me connect quickly and get on with the task at hand.
LED Rope Lights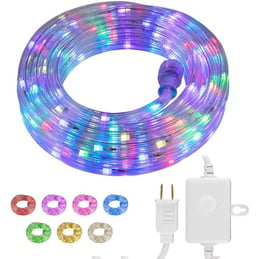 The past few years have been an exciting time for personal home lighting. The rise of vintage café lights, stylish LED strips, dynamic landscape lights and more have given consumers new and innovative ways to improve their space. Whether it's enhancing the mood with subtle accent lighting or transforming your backyard into a colorful showcase, there's always something new around the corner. In the impressive, and ever-expanding, array of options, something special caught our eye—UltraPro LED rope lights. Not only were they sleek, flexible and easy to install, they produced truly vibrant lights and colors that tied our space together in style. Use them for Holidays, Landscape, Home Theaters, Patios and Balconies, Indoor Accent Lighting, Parties, Tailgating, RV's and more.
There is an ever-expanding and ever-improving selection of LED lighting products out there. And from what we've seen, LED rope lights are leading the pack with vibrant color modes, dynamic lighting and unparalleled variety.
ENBRIGHTEN WI-FI
Joslyn, Digital Content Specialist

Some call it lazy, I call it efficient. With the Enbrighten Mini Wi-Fi Smart Switch, automation is at your finger tips. The Enbrighten app can be easily downloaded from the Apple App store as well as Google Play. This easy-to-use app makes setting timers, schedules, scenes, and simply turning on and off your devices do-able from your phone. Not only is there an app, but the Enbrighten Wi-Fi line is also directly compatible with Amazon Alexa and Google Assistant. With the Enbrighten Mini Wi-Fi Smart Switch you will never have to get up to turn something as simple as a lamp off, again.
Tethered Timer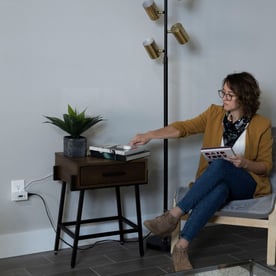 Outlets never seem to be in the perfect spot. A UltraPro Plug-in Dual-Outlet Digital Timer with Tethered Button provides an ideal solution whether outlets are blocked by furniture or simply too far away. The timer function automates lights, fans and more for operation any time. To allow ON/OFF control from up to five feet away, the push button rests securely on tables and floors or hangs on walls.
PHILIPS XL CHARGING CABLES
Sara, Social Media Coordinator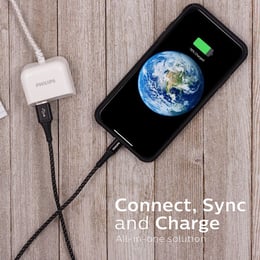 Phone chargers. We all know them, we all have them, we all always need more of them. If there is one cable you can add to your workspace to increase your quality of life – it is this XL Philips iPhone Charging Cable. Gone are the days when you can't reach your phone due to an across the room outlet and a short charging cable! With this XL cable you can have your phone with you wherever you need it.
Enbrighten Color Changing Tabletop Light

Having a designated workspace that is as functional as it is fashionable helps progress my productivity and overall happiness while working from home. The Enbrighten Color Changing LED Tabletop Light has been an incredible addition to my desk and does just that. With a modern exterior in sleek white and features for dimmable white light as well as color changing settings, this LED light exceeds the purpose of simply illuminating your space by bringing a fun new twist to the typical desk lamp. From those who prefer a minimalist aesthetic with neutral tones to the color enthusiasts looking for creative inspiration, this tabletop light fits all.
UNIVERSAL COMPANION REMOTES
Kearsten, Digital Marketing Manager

If you're a home entertainment junkie, or if you're tired of having your coffee table cluttered with multiple remotes, look no further than the Universal Companion Remote to simplify your home entertainment setup. The Universal companion remote connects up to four devices and features a unique slide in cradle for the Amazon Fire Stick. Allowing you to single-handedly control all your entertainment equipment and ensure you'll never lose your Fire Stick between the couch cushions again.
CORDINATE EXTENSION CORDs
Kacey, Digital Marketing Specialist

Extension cords are a necessary staple in any home nowadays. We're constantly having to charge, recharge, and plug in our numerous devices for work or entertainment. One of the biggest pains of traditional extension cords is that they are often bulky or unattractive and can disrupt the look of a space. Thankfully, that's where Cordinate Extension Cords come in. Cordinate provides a stylish alternative, the braided cord adds a look of style and sophistication, and with multiple color and length options they'll fit perfectly into your home and charge all your devices without disrupting your space.
SURGE PROTECTORS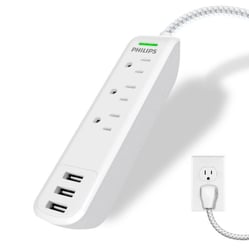 Complete your home office setup with a surge protector. A surge protector prevents harmful voltage spikes from damaging your connected devices, and it's an easy way to safeguard and power those valuable laptops and tablets from school or work. Look around—there are tons of corded and non-corded options that are sure to fit your needs.
Shop more products we love!