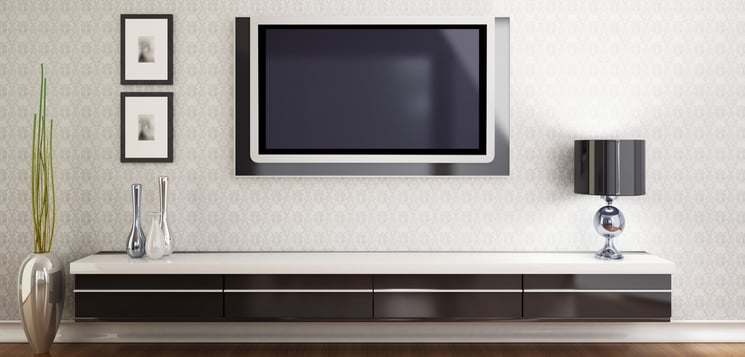 With the average cost of cable over $100/month and up to $1,200 a year - it's no wonder people everywhere are making the decision to ditch their cable plan and cut the cord. But to many, cutting the cord seems terrifying. How can you watch your favorite shows without cable? Can one honestly live without it? The answer is simple: yes you can, and you can do it easily! Getting your TV fix without cable is easier now than it has ever been. You can still watch TV without cable and catch any, and all, of the best shows by using:
HDTV Antennas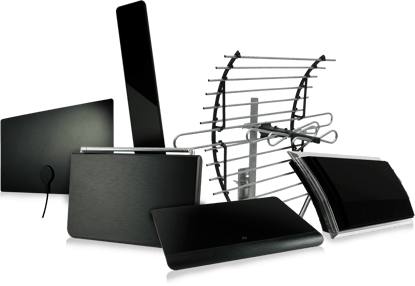 HDTV antennas allow you to feel like you are watching normal cable, without the pricey bill. With access to major networks like NBC, ABC, CBS, and more (depending on the range of your antenna), an HD Antenna is an easy and cost-effective way to replace cable and watch your favorite TV shows.
GE UltraPro Optima HD Antenna
If you live in an urban area closer to towers, the Ultra Pro Optima HD Antenna is a great pick. It has a black, sleek design that helps it blend in with the décor of your home. It can be placed on a table or mounted to a wall. It has an innovative, curved shape that enhances the antenna's reception efficiency and it has a 60-mile reception range. It was designed to seamlessly integrate with all of your electronics.
If you're looking for a more modern, "Apple-esque" appearance and live within the city, the Pro Flat Panel HD Antenna is a great fit. It can be mounted, lie flat or stood up right. It has a clean, white panel with a crisp, flat front. Unlike many of its competitors, the Pro Flat Panel Antenna is USB-powered and features PureAmp Technology™ to amplify the signal and filter out noise. This gives you a clear and clean reception! With a 50-mile reception range, you can pick up a variety of channels to choose from.
There is also an antenna that really shines for anyone who lives outside of the city and may be in a low signal area. The Ultra Pro Stealth HD Antenna can be mounted in the attic or outside so that it experiences less interference and can receive signals much better. It has a 3-in-1 pivot stand and a 60-mile reception range.
If you like to change up your home décor based on season, the Pro Bar HD Antenna has black and white reversible sides that may catch your attention. This antenna can be mounted or placed on a table. Like the previous two antennas, it does best if within an urban area and it seamlessly integrates with your technology. This antenna picks up channels within a 30-mile reception range.
Streaming services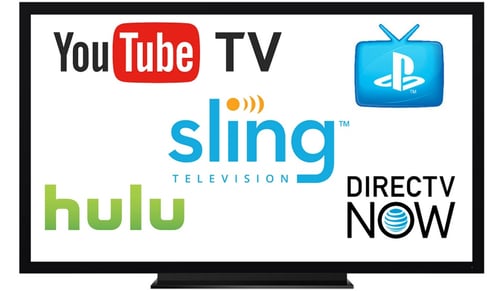 Hulu
Hulu offers a wide variety of TV Shows that air on the most popular networks. Shows that are from the current season will be available on Hulu as quick as one day after airing on their TV network. Hulu also offers its own original content and a robust catalog of past seasons of cable and network TV shows. They offer content from classic TV shows like "The Brady Bunch" to the latest episode of "Once Upon a Time" and "The Daily Show."
Hulu costs only $7.99 per month. You can test Hulu to see if you like it with a one-week free trial.

PlayStation Vue
PlayStation Vue is one of the newer streaming services to hit the market. You do not have to have a Play Station game system to use the PlayStation Vue streaming service, all you need is one of the many supported devices like your Amazon Fire Stick, Google Cast, Roku, etc.
The PlayStation Vue website has a great website where you can visit before you sign up for the subscription and type in your ZIP code to see which packages are available in your area. They also have a 5-day free trial where you can decide for yourself if it is the perfect fit for you before committing.

DirecTV Now
DirecTV Now which has 4 different packages that you can purchase. Coming in at $35 they have the "Live a Little" plan. This plan provides 60 plus channels and provides all the essentials. Next they have the "Just Right" Plan, which gives you over 80 channels for $50. Their highest plan is the "Go big" plan which gives you over 120 channels for $70 per month.
Just be careful not to fall into the hole of getting the highest package available because then you are subject to fall right back into the hole of high cable costs and you could end up paying the same price. The good thing is, no matter what, there is no commitment to this service so you can cancel at any time, unlike cable TV.

Sling TV
Sling TV is one of the most straight-forward streaming services with just two simple options. With an HD antenna and a Sling Orange subscription for $20 a month (that you can cancel at any time), you can watch local channels and get all the sports you need without having to pay outrageous prices for cable.
In addition, this package also gives you the best of both worlds with channels like HGTV and Lifetime. Speaking of best of both worlds, they also have Disney channels so kids can watch as many Hannah Montana reruns as they want. A win-win for the whole family!

YouTube TV
YouTube TV is a sports lover's dream. With the price being only $35 a month, sports fans can't beat it. It will include ESPN, ESPN2, ESPN3, ESPNU, ESPN News, SEC Network, CBS Sports Network, CSN, NBC Sports Network, Fox Sports, BTN, FS1 and FS2.
Streaming Devices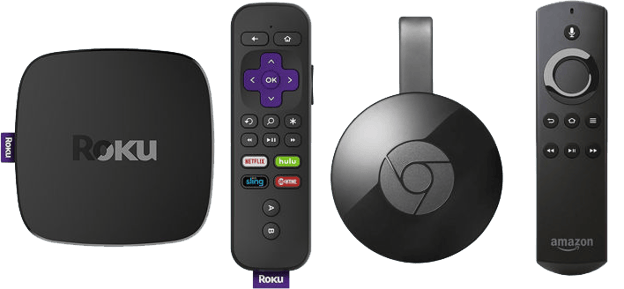 Once you have settled on a streaming service, or services, the next step to take is to add a streaming device.
Roku Ultra
The Roku Ultra is a power house streaming device, one of the only streaming devices that will let you watch Netflix, YouTube, Amazon Video and similar streaming services in full 4K resolution with support for HDR color and Dolby audio protocols.
With access to more than 3,500 channels/streaming services, the Roku Ultra is a gateway to any and everything you could ever want to watch, from movies to cooking videos, to at home workouts. The remote control for Roku even offers the option to privately listen through an audio jack and features a mic for voice search.

Google Cast

Google Cast is the least visually obtrusive and physically complicated media streaming platform. Simply take a Chromecast or Chromecast Audio, plug it into a power source, plug it into your TV or sound system, and control everything through your mobile device. There are no remotes to keep track of, no confusing on-screen interfaces, and no app stores to separately navigate.
Bonus: All three variations of Google Cast work with Google Home, so you can issue voice commands for what you want to watch, and even see supplemental information related to voice searches.

Amazon Fire TV
The Amazon Fire TV device is focused heavily on Amazon Prime content, with Amazon Instant Video and Amazon Prime Music built directly into its menu system. You are able to use other content services available through Fire TV as well as individual apps, like Hulu Plus, Netflix, and YouTube. The big advantage of the Fire TV is having all of your Prime content right at your fingertips.
Amazon has equipped its Fire TV platform with Alexa, the same voice assistant used in the Amazon Echo speaker, so you can navigate your Fire TV with just your voice.

Want a monthly round-up of more of the latest cord-cutting news and tips? Sign up below for your monthly dose of awesome-ness from the Jasco blog:
Related Stories: