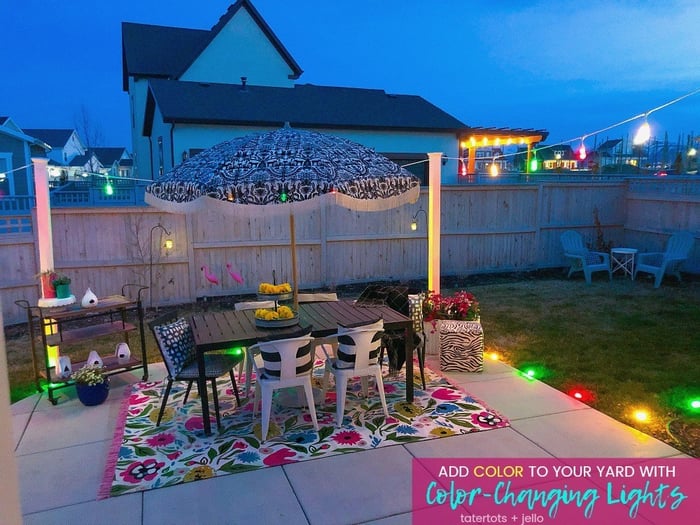 Image Credit: Tatortots & Jello
Did your vacation get canceled? Plan a staycation instead! Create an in-home getaway that will make you never want to leave your house (or at least make it as enjoyable as possible). In this blog, we'll show you how to transform your home and make you forget all about the vacation you didn't get to have. Whether you are adding in an outdoor entertainment center, changing up your scenery with decorative accents, hanging cafe lights or upgrading your technology, we have all of the tips and tricks to spruce up your space!
Home Cinema
For your next staycation, immerse yourself in another world—all from the comfort of home. Whether you're into drama, comedy, home improvement, documentaries, sports, or travel, your entertainment center can take you there. Here are some gadgets to help make the most of your home theater space.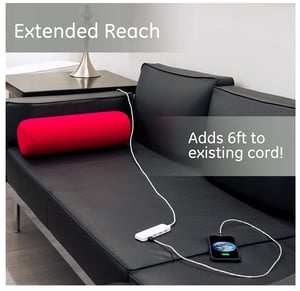 If you plan on being stuck to the couch, binge-watching Netflix, be sure to plug in an extra-long USB charging port, so you'll never again have to leave the comfort of your sofa to check your phone or tablet. With the extended reach and tangle-free braided cording, these phone charging cables and USB-C cables can easily complete your in-home media center powering station.
Hate the hassle of juggling multiple remote controls? This clever Universal Remote Companion controls up to four devices and makes sure your streaming remote is in hand and ready for action. Simply slide your compatible Roku or Fire TV streaming remote into the handy compartment on the back for quick access to stream all the content your heart desires.
Whether or not you're a cord-cutter, having an HD antenna is an excellent addition to any entertainment setup. They're easy to install and let you enjoy free over-the-air broadcasts, which can come in handy if your cable or satellite goes out during a storm. Check out our HD Antenna Guide to help you determine the best antenna for your setup. If you're ready to ditch your cable or satellite service, here's how you can cut the cord in three easy steps.
If you're adding a gaming system or other component as a staycation perk, you need great connectivity. These high-quality HDMI cables support vibrant colors, rich audio and an impressive refresh rate. If your TV has limited HDMI ports, this HDMI switch expands one HDMI port into four so you can easily toggle between devices using your remote.
poolside Paradise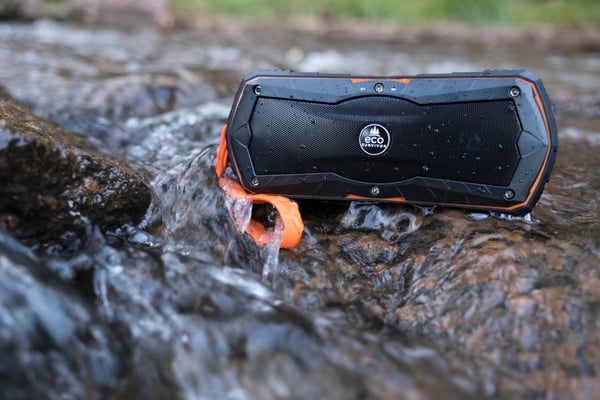 If the pool is where you plan to spend your staycation, check out some rugged and reliable gear from EcoSurvivor. This line of wireless speakers, earbuds and battery packs are all tested to withstand the elements.
Whether you're lounging by the pool or swimming laps, these EcoSurvivor IPX7 Bluetooth Earbuds will keep you tuned into your favorite playlist or audiobook. The built-in rechargeable battery provides up to 10 hours of playtime, and the in-bud controller/mic operates your music, takes calls, and activates your phone's digital assistant. Want to pump up the volume and share your tunes? This EcoSurvivor IP65-rated Bluetooth Speaker lets you rock on with your friends for up 12 hours of playtime. The USB charging port also comes in handy when your cell phone needs a charge to keep the party going.
patio Oasis
Picture this: you've settled into the first evening home on your staycation. The night air is cool and refreshing, you're sipping an oversized glass of merlot and the crackling noise of your record player cascades through your screen door. You'd think the atmosphere is perfect, but something is still off. Your backyard looks, well, kind of dull without any proper lighting to match the mood! When it comes to shedding some new light on your home, there isn't anything classier than café string lights.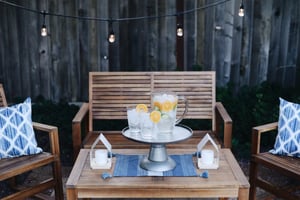 The marriage of warm, old-world aesthetics and modern-day décor elevates any space to the next level. Thankfully, they are simple to install and offer something for everyone — whatever your personal style! Illuminate your home with warm vintage light for relaxation or match the occasion, holiday or mood with vibrant colors.
Crafted with style and built to last in any environment, your string lights will make your staycation feel like you really are enjoying that wine at your very own café.
To get the most out of your café lights and other landscaping features, connect your décor to an easy-to-use outdoor timer. The family of myTouchSmart timers accommodates your entire yard. A complete line of plug-in digital timers, yard stakes, light-sensing timers and more eliminates the need to manually turn ON/OFF with versatile automation options.
set up camp
If you're yearning for a little adventure during your staycation, you can't do much better than pitching a tent, gathering some sleeping bags and enjoying the great outdoors. You don't even have to travel to a far-off location; you can set up a great campsite in your own backyard! Wherever you go, no camping trip is complete without dependable lighting. Equip yourself with some awesome USB-charging lanterns, motion-sensing headlamps or multi-use lights to guide your way.
upgrade your tech
For the complete all-inclusive resort experience, let your home do the work for you. Adding smart controls is an easy project to take your staycation to the next level through remote operation, custom scheduling, voice commands and more. The revolutionary line of Z-Wave smart devices with patent-pending QuickFit™ and SimpleWire™ technologies support effortless installation and worry-free setup. Enbrighten Zigbee 3.0 smart controls offer the most comprehensive collection of Zigbee devices for whole-home automation.
If you want that five-star luxury feel of a fancy hotel, upgrade your home tech to make your in-home getaway as relaxing and convenient as possible. A simple way to boost the wow factor of your place is to swap out your old electrical outlets for ones that feature USB ports. Installation is a breeze and can be a perfect DIY project.
Adding the finishing touches
After all of these staycation tips, something still seems off. Your patio still isn't a beach cabana and your pool doesn't feel like an island oasis. Don't fret, simply change up the scenery around your home by adding some finishing touches like new plants and wall décor to make your home feel more like a getaway. Hang up a hammock in your backyard and throw some island-vibe accent pillows or comfy cushions to round out your in-home oasis.
Lastly, make sure to give yourself a break from emails and phone calls, even if your office is at home. Take time to actually relax and unplug from the world like you would if you were spending your time up in the mountains or on a tropical island somewhere.
Staying home for vacation doesn't have to be mundane. With a little planning and creativity your staycation can be filled with adventure, fun and memories that will last forever.
---
You might also like to read:
---