It's safe to say almost everyone is a heavy smartphone user these days. We stream music, read the news, check social media, communicate with our friends and family and use our phones for tons of other daily tasks. And sometimes your phone's battery just can't make it all the way through the day. That doesn't mean you have to glue yourself to the wall while you recharge. You no longer have to be that person sitting on the floor at the airport, leaving your phone plugged in across the room or twisting yourself into a pretzel to use your phone while it's charging by your bed.
The best solution is to simply upgrade your short USB charging cable to a longer, faster more durable charging cable. It's a small and easy thing to do that can make a big impact on your daily life. It solves tricky plug placements in airports, coffee shops and even your own home.
Wondering what cable is your best option? Try the GE 9 ft. USB Sync and Charge Cable.
Here are five reasons you need this USB charging cable in your life.
1. It's long!
Are you tired of having to do a back bend to reach the short cable that's plugged in behind your couch? Have you had enough of having to walk across the room to check your phone because there's only one outlet in the room?
Your problem is solved with the 9-foot charging cable, yes you read that right - 9 feet of USB charging power for your Apple or Android device. Now you can comfortably sit on the couch, away from any outlets and still use your phone while it's charging. To illustrate just how long this cable is compared to a standard Apple cable, we plugged both of them for a side-by-side comparison below: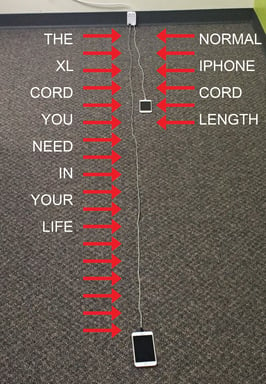 2. Your friends will love you
When your friends come over after a long day of work, they will undoubtedly bring their phone and forget their charger. Instead of making them have to bend over your couch or charge their phone from across the room, become a hero among your friends when you offer them an extra long cable to use.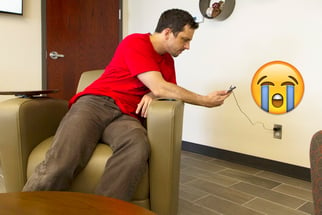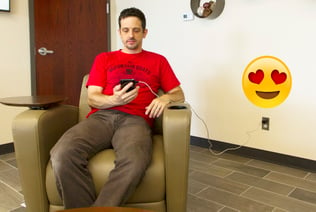 3. Dance around the room (or roll on the floor) and stayed charged
What if everyone used tiny pens and pencils because that is what came with notebooks and notepads for free? That would be silly, wouldn't it? You don't have to be those people. With a 9-foot charging cable, you have more flexibility for using your phone in the kitchen, living room, bedroom, or whichever room you happen to be in while it's charging.
Now you don't have to worry about those moments when you accidentally pull just a little too hard when grabbing your phone and unplugging it from the outlet behind your bed or under your desk. A 9-foot cable gives you more freedom and flexibility to be plugged in almost anywhere, especially those hard to reach places.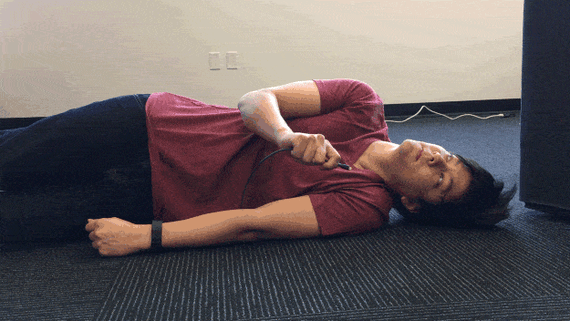 Jeff Barron/Buzzfeed

4. Charge your phone faster with Ultra Charge™ technology
Who has time to wait all day to charge their phone? This GE charging cable is equipped with Ultra Charge™ technology and is optimized for up to 40 percent faster charging for your phone compared to other standard micro cables on the market today.


5. This charging cable is durable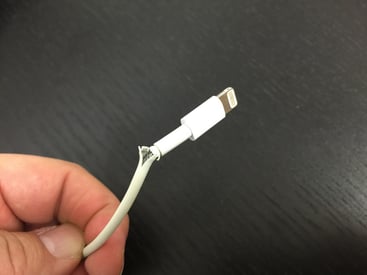 Most people have experienced the all too familiar headache pictured above. Since when did we all start accepting that our cables will inevitably start to fray and stop working much sooner than we would like? Stop yourself from the heartbreak and choose a more durable cable you can depend on to last. It's also a safe choice to always use products made of the highest quality materials from a trusted brand when it comes to powering your devices.