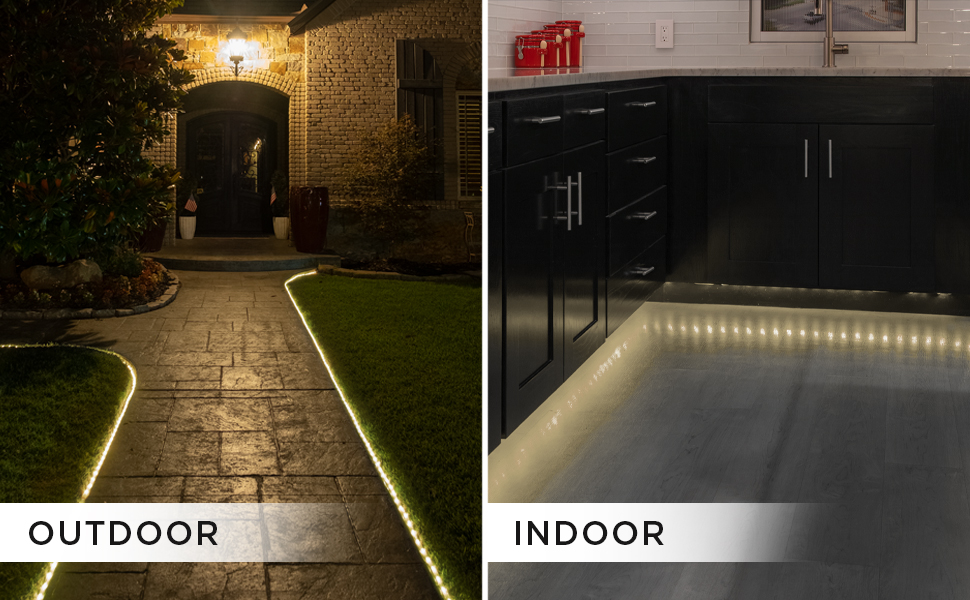 The past few years have been an exciting time for personal home lighting. The rise of vintage café lights, stylish LED strips, dynamic landscape lights and more have given consumers new and innovative ways to improve their space.
Whether it's enhancing the mood with subtle accent lighting or transforming your backyard into a colorful showcase, there's always something new around the corner. In the impressive, and ever-expanding array of options, something special caught our eye—LED rope lights. Not only are they sleek, flexible and easy to install, they produce truly vibrant lights and colors that tie your space together in style. Here are some of our top picks, ideas and suggestions for where your LED rope lights could go!
Holiday
Hanging them along the eaves of your home is ideal for showcasing the classic Christmas colors and twinkling wintry modes. LED rope lights are perfect for this, and any, holiday season.
Tailgating
Due to their lightweight and easily storable design, LED rope lights are great for taking on-the-go to sporting events, tailgates, festivals and more! After you plug it into a power source you can proudly put your team colors on full display!
Patios & Balconies
You've come home from a long day at work and all you want is to unwind and enjoy the cool evening air with a glass of your favorite beverage—and you can do so basking in the soothing glow of your own customized ambience.
RVs/Camping
Sleeping under the stars and indulging in the charm of the wilderness is great—fantastic even. But sometimes a splash of neon light can enhance that "around the campfire" mood and give way to a new way of camping.
Landscapes
Their low-profile design can lend to fantastic landscape lighting that is flexible, durable and stylish. Easily mold the lights to the shape of your landscape—wrap the lights around trees or turn your driveway into a stylish runway.
Home theaters
We have found that incorporating LED rope lights into our home theaters and entertainment centers immediately take the whole movie-going vibe to the next level.
Indoor Accent Lighting
(Hallways, Under Cabinets, etc.)
Because these lights are so versatile, we found they look amazing underneath cabinets, lining hallways, in garages and more. The effect of light bleeding out from behind furniture or accentuating the angles of your home is the epitome of what makes accent-lighting so cool!
Parties & celebrations
Sometimes we only need that extra bit of mood lighting when the occasion calls for it. There is something really cool about transforming your ordinary living room or backyard into your own personal club or full-blown dance party!
There is an ever-expanding and ever-improving selection of LED lighting products out there. And from what we've seen, LED rope lights are leading the pack with vibrant color modes, dynamic lighting and unparalleled variety.
You may also like...
RV THERE YET? 4 MUST HAVE'S FOR YOUR NEXT RV TRIP
ENBRIGHTEN LANDSCAPE LIGHTS: WHICH DO YOU NEED AND WHY?
Q&A: UNDER CABINET KITCHEN LIGHTING