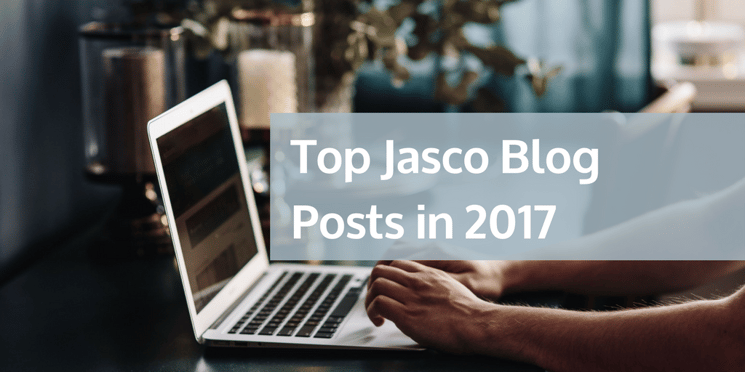 Jasco had a very busy and exciting year. We launched new products, redesigned and innovated existing products, and did everything else in between. Our blog has allowed us to share our journey, new products, thoughts, and ideas throughout the year. Our most popular blog posts ranged from Smart Home Technology to everything about Café Lights. If you happened to miss out on any of our blog posts from this year, check out the top 10 here:
The highly anticipated GE branded Smart Motion Switch and Smart Motion Dimmer are available online at EZzwave.com. With intelligent motion-sensing technology, the Smart Motion Dimmer or Switch can detect any movement in a room up to 45-feet away. With an 180º detection zone, the motion sensor is great for large or small rooms and features three different operation modes to choose from: occupancy mode, vacancy mode and manual mode.
The unmatched quality, design and functionality of Enbrighten Seasons Café Lights will bring new life and versatility to brighten outdoor (or indoor) spaces year-round. Celebrate any occasion, holiday or favorite sports team or choose warm vintage white for year-round lighting with one color, two-color combinations or a variety of preset color modes and effects. With over 120 color combinations, users can create lighting magic with a press of a button. Whether you're wanting to set the mood for a special occasion, create an eye-catchingly colorful lighting display for the holidays or simply can't decide on a single color, Enbrighten color changing cafe lights are the best choice for every season.
With the average cost of cable over $100/month and up to $1,200 a year - it's no wonder people everywhere are making the decision to ditch their cable plan and cut the cord. But to many, cutting the cord seems terrifying. How can you watch your favorite shows without cable? Can one honestly live without it? The answer is simple: yes you can, and you can do it easily! Getting your TV fix without cable is easier now than it has ever been. You can still watch TV without cable and catch any, and all, of the best shows by using: HDTV antennas, streaming services and streaming devices.
The shift toward USB Type-C is well underway, and with good reason. With USB-C, we have faster data transfer speeds, faster charging and more power. USB-C cables and connectors are slim enough for phones yet robust enough for laptops and tablets. As the world moves toward USB-C, it doesn't mean you have to replace all of your current devices right this minute. You just need the right USB-C cable or adapter to start taking advantage of everything it has to offer. Luckily, we have a full range of GE branded cables available to help with the transition.
Z-Wave is a leading smart home technology found in millions of products around the world. It allows all of Jasco's Z-Wave devices to securely "talk" to one another, and talk to other certified Z-Wave products. As with any technology, home automation is constantly evolving. Z-Wave Plus represents one of the latest advancements in smart home tech. You can learn more about the latest Z-Wave technology and find answers to the top 5 questions about Z-Wave Plus.
What is Z-Wave Plus?
Will Z-Wave Plus products work with classic Z-Wave products?
What is the difference between Z-Wave and Z-Wave Plus?
How do I know I'm getting a Z-Wave Plus product?
Where can I get GE Z-Wave and Z-Wave Plus products online?
Some days it just feels like you can't possibly get everything done. Like you need a clone or an army of robots just to get through the day. Before cloning or robot armies really take off though, you can easily automate many day-to-day functions with simple plug-in timers. In this blog post we highlighted 6 things you can do with a timer– to help you save some time and energy–and also help you have some fun to keep your sanity intact!
Sometimes it feels impossible to get everything you need to get done accomplished in one day. There are only so many hours in a day, and trying to fit in cleaning, work, exercising, life, social activities, and all of the other daily activities into those 24 hours can be a daunting task. With these featured products you can get more done in a day than you would have ever expected! Allow technology to help make you more productive without lifting a finger.
Extension cords are not something you normally find yourself thinking about or even researching online. When you think about extension cords, usually what comes to mind are solid colors (usually in brown, black or white), light and flimsy or bulky heavy duty cords that all get tangled and get in the way. Well now it's time to change the way you think about extension cords with Cordinate Designer Extension Cords. Cordinate extension cords have many differentiating features: they have a stylish braided color cord, a low profile plug, and are available in a variety of styles.
Whether you call them outdoor string lights, party lights, bistro lights, globe lights, or specifically Enbrighten Cafe Lights (our personal favorite), it's clear that cafe string lights are very trendy right now. They add a touch of magic to any space and you'd be hard pressed to find a patio (or reading nook, home theater, or garden) that couldn't be improved by the glow of beautiful cafe string lights. If you've been considering adding cafe lights to your space but still have questions, we have all the answers to your cafe lights questions in this Q&A session!
Whether you have recently made the choice to cut the cord and enjoy free hi-definition over-the-air television or you made the decision long ago, here are a few tips to get you on your way to the best TV reception with an HD antenna.
Locate local broadcast towers
Point your antenna in the right direction
Place it near a window
Take it higher
Take it outside
Use a longer cord if necessary
Be aware of potential interference and avoid it when possible
Don't over amplify your signal
Don't forget to rescan from time to time
We are looking forward to all of the exciting things happening in 2018. If you want to subscribe and get all of the latest and greatest blogs click the button below!