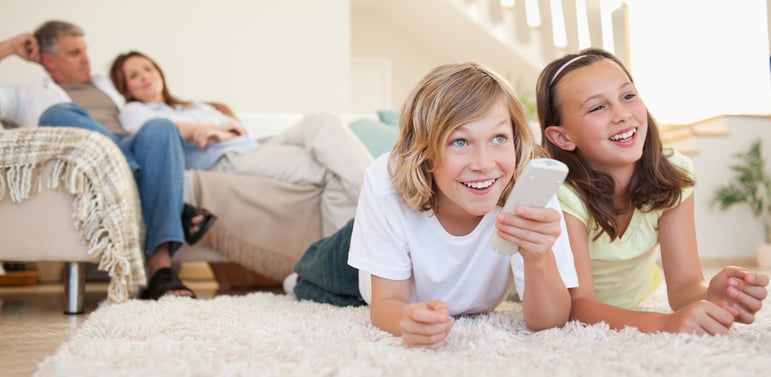 Budgets are tight, and in some cases, they're getting tighter. Believe me, I understand. If you're not already one of the millions of cord-cutters who have said goodbye to cable and satellite service, now is as good a time as any!
You probably already have a TV and coax cable, so all you would need is a TV antenna to receive local over-the-air (OTA) broadcasts. On average, most U.S. consumers can receive up to 30 free OTA channels, including major networks like NBC, ABC, CBS and FOX, as well as other popular channels like PBS, The CW, MeTV, Buzzr, This TV, Telemundo, Univision and more. If you live in a major metropolitan area, you may be able to receive even more channels.
Visit antennaweb.org and type in your zip code to see which OTA stations are available in your area. It will also tell you the distance to their broadcast towers. That information will help you determine which antenna will work best for you. Also, check out this helpful post about making the most out of cutting the cord.
Plan to rescan.
Let's be honest. How often do you run a channel scan on your TV? Once we get that brand new big-screen beauty set up and connected to the antenna, we're done, right? Not quite.
As channels change frequencies or are added to the airwaves, a quick channel scan can easily capture those updates and keep you from missing out on important local broadcasts, not to mention the best in free TV!
Plan to rescan:
Every few months to capture any new stations.


When your TV indicates a "weak signal."


Whenever you relocate or adjust your TV's antenna.


On specific dates as outlined by the Federal Communication Commission (FCC).
The FCC's plan to increase bandwidth.
With more and more people cutting the cord and streaming video, working from home and participating in online education, the demand for bandwidth has grown exponentially – especially during the current global pandemic.
In an effort to free up bandwidth space over the airwaves, more than 1,000 TV stations in the U.S., Canada, Puerto Rico and the U.S. Virgin Islands are moving their broadcast frequencies systematically over the course of 39 months. These changes, which began in 2017, are designed to ease wireless network congestion and provide a foundation for technological advancements in wireless services and applications. Check out parts one and two of this series for more details.
With only two phases left to go and a completion date of July 3, 2020, the FCC is nearing the end of its initiative. For those of you in Hawaii, Puerto Rico and the U.S. Virgin Islands, your channel transition is complete! For the rest of us, here's a breakdown of the remaining phases and dates by region:
2020

Phase 9

Mar. 14 – May 1, 2020

Phase 10

May 2 – July 3, 2020

Canada

Canada

Central Plains

Central Plains

Florida Peninsula

Florida Peninsula

Mid-Atlantic

Mid-Atlantic

Midwest

Midwest

Northeast

Northeast

Northwest

Northwest

Ohio River Valley

Ohio River Valley

Southeast

Southeast

Southwest

Southwest
(Source: FCC.org Phase Assignment)
Keep in mind that:
You can rescan your channels at any time. However, if you want to limit your channel scans, simply wait until the phase end date to catch all of the changes.


Each region is included in more than one transition phase, so plan to rescan after each phase.


Due to COVID-19, there may be delays. But, as of April 3, 2020, everything is on schedule.


At antennaweb.org, you can type in your zip code to discover which channels in your area will be moving, as well as the best day or days for you to rescan.
Scan your TV for channels in 3 easy steps.

Step 1: Select the menu button on your remote, TV or converter box to access the settings menu.

Step 2: Select one of the following options: scan, auto scan, auto tune or something similar.

Step 3: Sit back and let your TV handle the rest.



If your TV is not responding or if you can't find the channel scan menu option, consult your TV's manual or contact customer service for your TV or converter box manufacturer.

If you'd prefer to have someone walk you through the scanning process over the phone, here are a few options:
For GE and UltraPro antennas, call 1-800-654-8483 between 7 a.m. and 8 p.m. (CT), Monday through Friday.


For Philips antennas, call 1-844-816-0320 between 7 a.m. and 8 p.m. (CT), Monday through Friday.


Contact the FCC's help line at 1-888-CALLFCC (1-888-225-5322) and press "6" to speak to a representative between 8 a.m. and 1 a.m. Eastern time.


Questions?
Check out the FAQ in part two of this series.


Helpful Links