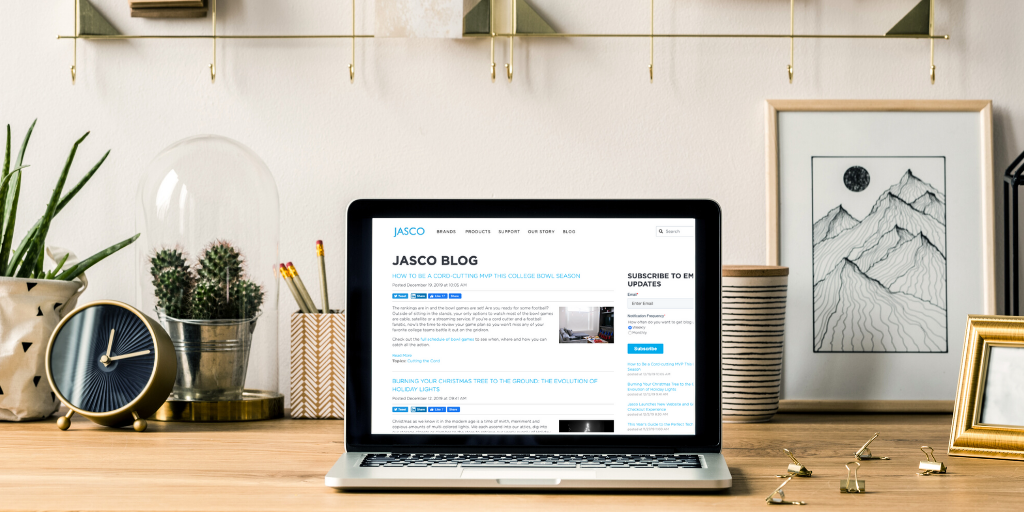 It can be tough to keep up with all of the new content that is published and what's new on the market, especially those of you that are within the tech industry and its ever-evolving ways. It is through our blog that we connect you with highlights and exciting news along the way. This year has been a big year for Jasco as we debuted a whole new line of Z-Wave Smart Switches, introduced more characters to our Projectables family, launched a new website and much more. We've recapped below some of Jasco's best news and helpful information from this year with our most popular blog posts you never meant to miss.
Get the Most Out of Free TV | Plan to Rescan: Part Two
If you're one of the 33 million cord-cutters and you rely on a TV antenna for local programming, or if you simply use an antenna as a backup for potential cable or satellite outages, then you should plan to rescan. Antenna users typically have access to more than 30 free over-the-air channels. Larger metro areas could have up to 100!
As channels change frequencies or are added to the airwaves, a quick channel scan can easily capture those updates and keep you from missing out on the best in free TV. Continue reading here.
GE Z-Wave Smart Switches are Revolutionizing Smart Homes
Our latest generation of Z-Wave smart controls are being introduced in five in-wall configurations with toggle and paddle style switches and changeable faceplates to accommodate any home. Unlike other options on the market, the add-on smart switches provide the same control as a master switch with the functionality of dimming from remote locations. Up to five add-on switches can also be connected to the same light, fan or appliance. Continue reading here.
Ask the Experts: Antennas
Did you know antennas have a higher visual and audio quality than cable or satellite? After you choose to cut the cord, the next thing to determine is how to set up your HD antenna to receive the best signal for the best picture possible. Without a cable service representative coming to the house to set up your home entertainment for you, questions can quickly arise in a DIY setting. We talked with our antenna experts here at Jasco and asked them all the questions you will need to know in "Ask the Experts — Antennas edition." Continue reading here.
Down to the Wire: USB-C vs. Qi Charger
Just when you get used to the latest tech, it's replaced by something better. With each iteration, speeds are increased, memory and storage are packed into tinier spaces and the convenience with which consumers can access this new discovery is improved. Currently, the old standards of powering and charging devices are being replaced by two emerging contenders — USB-C and Qi.
But which one is right for you? Here's a list of some of the benefits to help you decide! Continue reading here.
Enbrighten Landscape Lights: Which Do You Need and Why?
Enbrighten Landscape Lights and Enbrighten Mini Landscape Lights are newer to the outdoor lighting scene but quickly winning over the hearts of home enthusiasts everywhere with their abundant color-changing effects, high quality design and versatile functionality. However, for the ones who haven't jumped aboard the quick and easy DIY landscape lighting project yet, how do you know which to choose? We've laid out the similarities and differences of both sets of Enbrighten Landscape Lights below to help you in your decision making and determine which landscape lights are better for you. Continue reading here.
Take Charge of Your Power Cords and Beautify Your Space
When it's time to declutter, reorganize and find what sparks joy, as Japanese organizing consultant Marie Kondo would say, we'll leave the clothing, books and knick-knacks to you. However, when it comes to your electronics, we have some great ideas to help you spruce up your space, neatly organize power cords and cables, and create functional and protective power centers, so you can focus on what's most important to you. Continue reading here.
Dorm Room Power & Charging Solutions We Swear By
Surviving school isn't about remembering your pen, notebook and binder anymore. You have to make sure your laptop is charged, your smartphone has a full battery and any/all tech devices are ready to take on a long day of class, studying, and club meetings.
How can you keep all of your devices charged at any/all hours of the day? How can you squeeze so many chargers and plug-ins into two outlets in your dorm room? Fear not – we've compiled a list of power and charging solutions to help you (and your tech) survive the school day. Continue reading here.
How to Stay Connected to WiFi Devices - Everything You Have to Know
WiFi smart controls are handy gadgets that connect to your home's wireless internet to manage lights, fans and other fixtures from anywhere. Flipping a light switch becomes a thing of the past thanks to remote control with your smartphone, tablet or other mobile device. Voice command capability through a virtual assistant makes WiFi controls an even more convenient choice for home automation. It really is a breeze to run a smart home especially with these common tips, tricks and insights to stay connected to WiFi devices. Continue reading here.
Ask the Experts: Universal Remotes Edition
Universal remotes can empower you to be the master of your entertainment universe by consolidating all your device remotes into one and placing ultimate control in the palm of your hand. So, whether you have a simple setup that includes a TV and one or two other devices, or a dedicated home theater room decked out with the latest audio/video equipment, our team of experts here at Jasco will address some of the top questions you may have about programming and troubleshooting universal remotes. Continue reading here.
THE DIY GUIDE TO UNDER CABINET LIGHTING: PART THREE
In past lighting blog posts we've discussed the various types and qualities to look for when searching for a new under cabinet lighting fixture. And whether it's tried and true brands like GE Fixtures, or exciting up-and-comers like Honeywell, there is little doubt that your kitchen will be basking in the glow of energy efficient style. But there are so many other uses for these LED fixtures than simply installing them underneath your cabinetry.
We here at Jasco have decided to offer you the most tried and true method of imparting knowledge of the modern era: putting things into a numerical list. Here are our top five places you can install your under cabinet fixtures that are, well, not underneath a cabinet! Continue reading here.
Thank you for reading our blogs in 2019!
2019 was a great year full of exciting product launches, new trends in the consumer electronics industry and fun and creative ways to enhance your life with any and all of Jasco's products! We look forward to 2020 and all of the exciting things to come.
Special thank you to everyone that contributed to our blog this year!