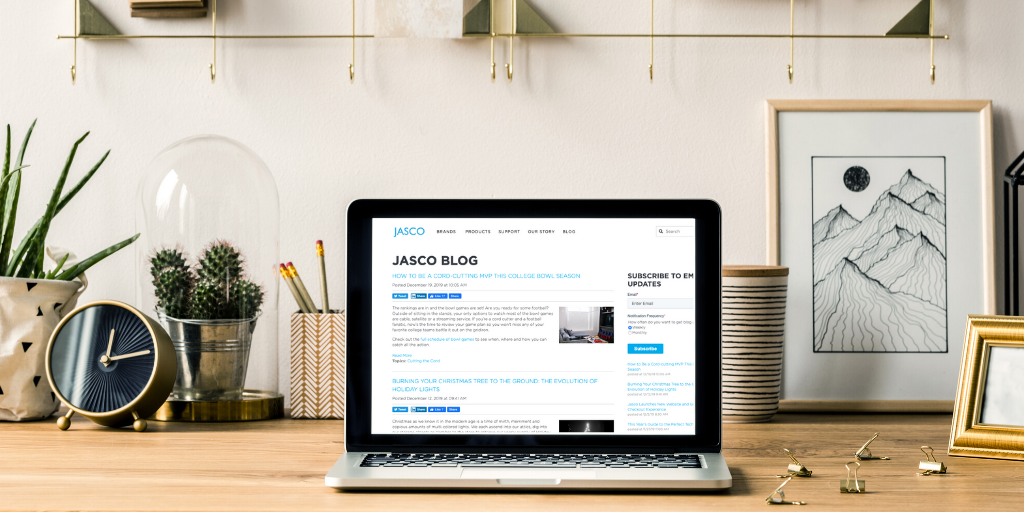 The New Year often brings around the age old saying: "New Year, New You." Often leading to new resolutions in order to become the best version ourselves. But shouldn't this resolution apply to our homes too?
Now is the perfect time to start off the new year with new home upgrades - both indoors and out. As 2021 comes to a close, we've recapped our best blog posts of the year. These posts help maximize the untapped potential inside your home, making life easier and your home smarter.
Easy Upgrades to make your outdoor space cozy
Fall has arrived, and it's the perfect time to make your outdoor space comfy and cozy! Whether you're adding decorative lighting to your patio, or need to rethink your outdoor power situation, here are a few simple upgrades you can make that will add some spice to your space.
THE SECRET TO THE PERFECT FOOTBALL SETUP
The best game day setups require more than burgers, hot dogs and a cooler full of beverages. They need to look great, function and provide a place to have a good time. Fortunately, creating your football paradise is easier than you think. These simple accessories can elevate your entertainment center.

8 PRODUCTS TO TAKE YOUR BACKYARD TO THE NEXT LEVEL
It's the perfect time to take your backyard or patio to the next level! Whether you're transforming your outdoor space into a twinkling paradise or need functional items that bring organization to your space, here are eight products that will refresh your backyard this summer.
HOW TO MOUNT YOUR TV IN 4 EASY STEPS
Whether you're redesigning your living space or bringing home the new star of your entertainment center, the decision to mount your flat-screen TV on the wall can be daunting. In reality, it's actually a pretty easy DIY project. In fact, we've broken it down into four basic steps. But first, it's important to select the right TV mount based on your specific TV and how you want the mount to function in your space.

4 PRODUCTS TO GET THE MOST OUT OF YOUR HOME OFFICE
A year after the worlds work environment shifted to working from home due to the spread of coronavirus, many companies and individuals have found a new rhythm working remotely.
A snapshot of the new work from home economy suggests that around 1 in 4 working Americans are still working from a distance. This trend is expected to continue, with an estimated 70% of the workforce working from home at least 5 days a month by 2025.
Even though many of us have now had time to adjust to working from home, converting our homes into a functioning professional workspace still presents its own challenges. To help, we've rounded up our favorite products to turn your not so temporary workspace into productivity central.
6 HANDY THINGS TO DO WITH WI-FI SMART PLUGS
When it comes to smart devices, it's easy to focus on basic lighting operation. However, the possibilities go much further than that. The options are really only limited by your creativity. Here are six ways to use Enbrighten plug-in Wi-Fi smart controls you might not have considered.
BE SMARTER ABOUT YOUR CONTROL, COMFORT, CONVENIENCE AND CLEANLINESS
More control means greater convenience with smart devices. Compatibility with Z-Wave and Zigbee hubs from top brands, as well as the hub-free option of Wi-Fi, open the door to endless automation features. Whether it is in the palm of your hand or through your words, smart lighting controls offer an extensive list of benefits.
Remote control of lighting provides easy peace of mind when you're away from your house, apartment, condo or townhome by creating a lived-in appearance. While enjoying the comforts of home, voice commands through popular smart speakers, like Amazon Alexa and Google Home, support totally handsfree operation of connected devices.

LED ROPE LIGHTS: TYING YOUR SPACE TOGETHER
The past few years have been an exciting time for personal home lighting. The rise of vintage café lights, stylish LED strips, dynamic landscape lights and more have given consumers new and innovative ways to improve their space.
Whether it's enhancing the mood with subtle accent lighting or transforming your backyard into a colorful showcase, there's always something new around the corner. In the impressive, and ever-expanding array of options, something special caught our eye—LED rope lights. Not only are they sleek, flexible and easy to install, they produce truly vibrant lights and colors that tie your space together in style. Here are some of our top picks, ideas and suggestions for where your LED rope lights could go!